The story of howTobenlee began!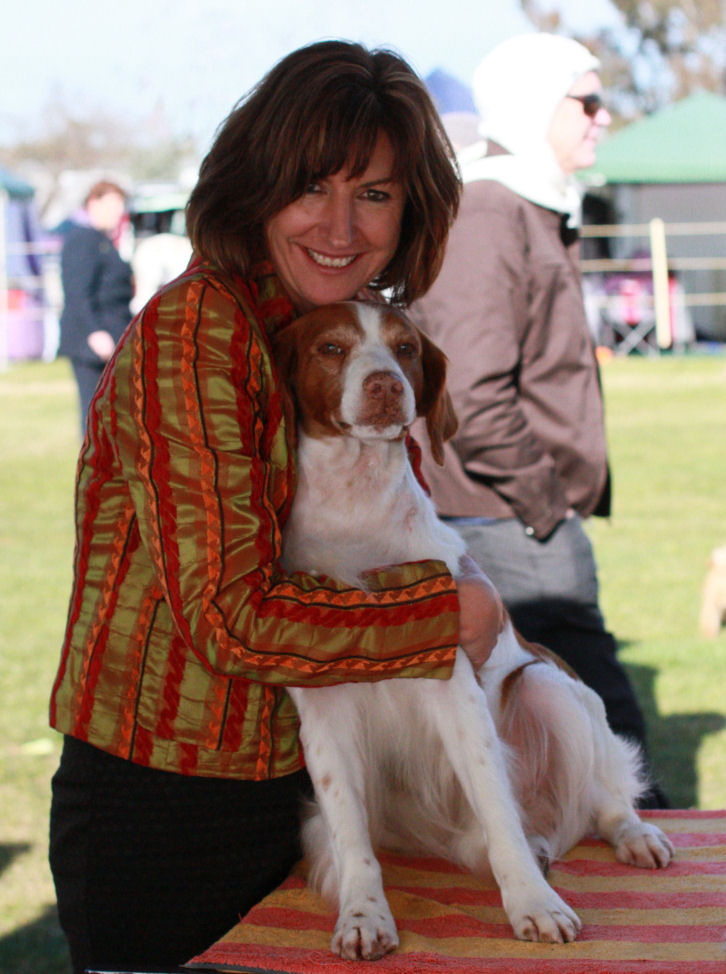 Tobenlee Brittany's are located  near Springhurst in picturesque North East Victoria Australia.
This is my story as to how I became so besotted with this beautiful breed The Brittany.
Interestingly enough it was by pure accident!
I have been owned and loved by Brittany's since 1983.
My childhood was a full and fantastic one!
I was born on a beautiful 3000 acre fine wool Merino and stud Hereford cattle farm situated in the stunning volcanic undulating Western Districts between Woorndoo and Mortlake. My Family (Mum, Dad, my three sisters and my brother) emigrated from Scotland in 1955 bringing with them three of dads working Border collie's, two bitches and a dog.
These dogs were descendants of my grand father's famous working lines. Papa's dogs not only earned their keep by working sheep on his farm in the highlands of Scotland but they also competed in sheep dog trials through out Europe. In fact my Grand Fathers dog was the International World Champion.
My dad bred and trained working Border Collies here in Australia for over 40 years. With, a lot of assistance from his constant companion, ME!!
Gundogs were always a part of our family, as my brother and dad loved hunting rabbits, quail, duck, snipe and foxes. We had a black Labrador "Beauty" (after black Beauty of course) and I had a black Cocker Spaniel "Bitsey".
"Bitsey" was bred by a family friend in Mortlake (yes a back yard litter, bare in mind this is going back when I was three years old that is 40 odd years ago!).
"Bitsey" was a fabulous dog her and I were best friends we did everything together she was my sole mate. She was one of the smartest dogs I had ever trained, she picked things up instantly I showed her once how to climb the water tanks wooden ladder she did it straight away and CAME back down it!!!
 She would sit on the motor bike with me and check the lambing ewes.
On many occasions "Bitsey" and I would help dad and his dogs to bring the sheep in for crutching/drenching/or shearing.
Once I left school and commenced Nursing training at Warrnambool Base Hospital I was away from home a fair bit but would come home on all of my days off to see mum and dad ,the farm and of course Bitsey.
Unfortunately all good things have to come to an end Bitsey passed away one night in her sleep when I was on night shift.
She was 17 years old I was heart broken. I vowed I would one day get another spaniel type dog!
 In 1983 that dream came true.
 I went off to work at the Terang and district Hospital it seemed a normal day until at lunch time I saw a women with the cutest little orange and white puppy. It was a spaniel of some sort it had floppy ears and that cute soft spaniel look and those eyes.
I was smitten!!
 I asked the lady what breed the puppy was she said a Brittany.
The Lady GAVE her to me!
Well that is how I became smitten with the Brittany Breed.
All thanks to Sandra and Peter Hunt and their kindness and foresight if it hadn't been for them I would never had found this beautiful breed of dog!
From there I became the consume show person driving hours upon hours to dog shows all over Australia.
Attending Brittany club meetings once a month after being convinced it would be a great idea to be on the committee (Driving from Noorat to Melbourne show grounds this was a six hour round trip and then front up to work the next morning).
Then of course the natural progression was for this young fresh girl to be groomed for the secretarial position.
Oh boy that was an experience and a half.
Anyway I did learn a lot and meet my then husband Laurie so for the next 18 years we set about getting this breed recognized and valued as a Highly sort after working gun-dog, recognized competitive show dog and a valued and much loved family companion.
These years were very full and exciting, in 1990 saw the first of our American Imports arrive here in Australia Chico of Aztlan (Rebel) and Jac's Hi Brass (Jess) who were then followed by 6 more fabulous Imports from various kennels through out America these dogs are
AUST CH PJ'S All Kiddin' Aside '(IMP USA)"COKE",
AUST CH Rocklan Jordean Night Hawk (IMP USA)"HAWK"
AUST CH Black butt's Heart Of Gold (IMP USA)"CINDERS"
AUST CH Dogwood Hollow American Beauty (IMP USA)"Revlon"
MULTI BISS/MULTI RBIS/AM/AUST SUPREME  CH Dogwood Hollow Out of The Park (IMP USA)"Chipper"
MULTI BISS/MULTI BIS/AM/AUST SUPREME  CH Dogwood Hollow C I Can Dance (IMP USA)"Rudy"
Fiona & Tiny after a very successful Deer hunting weekend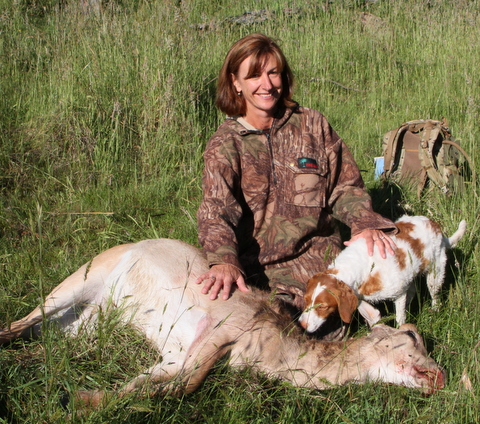 When Jess, Rebel and our existing lines combined we created two bitches, Tobenlee Super Tramp "Sandy" and Tobenlee Misty O Dee "Dee Dee" who became the first owner, breeder, handled Brittany's in Australasia to gain their DUAL CHAMPION TITLES.
These two girls were both under three years old when they gained their FIELD TRIAL and SHOW CHAMPIONSHIP titles.
Both these girls also competed and won retrieving trials against fields of 40 plus retrievers. In fact Dee Dee gained her Novice Retrieving Trial Title.
We are to say the least very proud of these two girls as they are, to this day still the ONLY DUAL (FIELD TRIAL AND SHOW) champion Brittany's in Australia.
1990 saw the purchase of my little Blue Merle Shetland Sheepdog Aust Grand Ch Hillacre Wee McGregor ROM "Seamus". 'Seamus" was a true once in a life time dog! He and I made an almost unbeatable team.
Together we won 32 All Breeds Best In shows and 89 Best In group (Group 1st) Including the 1998 Sydney Royal Easter Show defeating over 5000 exhibits under Mr. Hans Lehtinen of Finland.
Then, five months later, he repeated his performance by going Best Exhibit in Show at the 1998 Adelaide Royal Show, under breed specialist Mrs. Gael Morison of South Africa.
Seamus was my constant companion he always gave 110% all the time not only in the show ring but at home as well. To this day I still miss my little blue fluffy number!
Seamus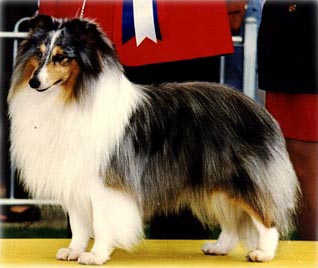 In February 1995 the light of my life was born. Andrew, my now seventeen year old son, who right from a little guy loved the dogs, helped with the whelping of the bitches and raising of the litters.
He was my little secretary when I was busy with the puppies/dogs he would answer the phone and let people know what I was doing, where I was (sometimes to efficiently, Sometimes way to much information lol !!!).
Andrew still loves the dogs and they adore him. He said one day mum I want a liver one just like Twister!
 Well he does have his own dog now ,not quite like Twister but Tiny was still a lovely companion for him sleeping on his bed every night and following him everywhere!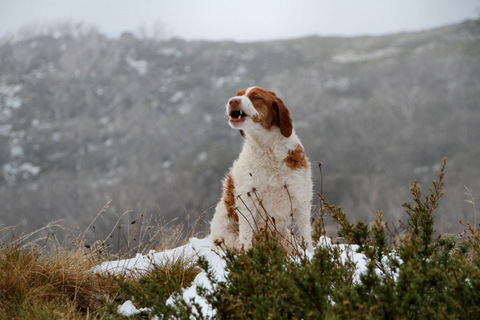 Tiny the Mountain Dog
Andrew is now having to plan his future and his career(oh how time fly's).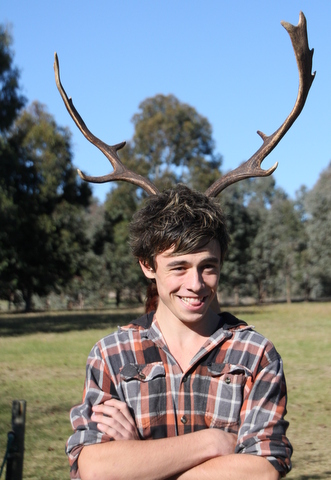 I re entered the work force as an Integration aide at a local Specialist school helping children with learning difficulties reach their full potential. I LOVED every minute of it. The kids were incredible and my work mates were fabulous!
I have handled  Brittany's and Shetland sheepdogs to multiple Best in Group and Best in Show awards.
To date I have bred 70 Australian Show Ch, 2 Grand Ch and 2 Dual Ch and numerous obedience/ Agility titled and highly valued working Brittany's.
I have handled 50 Brittany's and Shetland Sheepdogs to their Australian show titles.
Four of these dogs gaining their Australian Grand Champion titles.I have bred/owner/trained/handled my own Brittany's in field trials gaining points toward their field trial titles!There you have it folks this is how Tobenlee evolved into the kennel it is today!
There have been a few bumps and what seemed to be uncross-able  bridges but Fiona being Fiona found a way to get over them and keep on keeping on!
 One thing, I will never give up on is this brilliant little breed of dog.
 We will/we are ensuring the Brittany's future in this country is going to be a very healthy and bright one. By importing new lines from America and health testing all of our breeding stock. All dogs used in our breeding program are hip and elbow scored and passed all carry current clear eye and normal heart certificates.