Breed Information
| | |
| --- | --- |
| | The Brittany is a compact, medium sized dog with a short to medium length coat. fondly referred to as "the human orientated breed", they adore people and are ready, willing and able to join in on any family activity including swimming, jogging, sailing ,camping and horse/bike riding or just having fun. The Brittany is a very adaptable breed, they are happy living indoors or outside. agile, energetic, fast with a gentle, jolly happy go lucky temperament and a will to please. Brittany's are very valued and enthusiastic working gundogs and do make fantastic obedience, agility, show dogs and loyal family companions. |
| | |
HISTORY OF BREED

The Brittany is a French breed originating in Northern France in the Brittany region. The Brittany was originally developed as a Poachers dog. A small easily trained obedient dog that would remain by his masters side waiting quietly and patiently until his master sent him out to retrieve the family's dinner for that evening. He would play with the children during the day and eagerly awaiting his masters home coming .Keen and willing to perform his daily task of helping to gather the family meal. Which generally consisted of Grouse, Wood Cock, Pheasant, Quail, Duck plus Rabbits and Hare. Brittany's were first imported into Australia in 1974 and 1975 three from France ,one from The Netherlands ,two from Main land U.S.A and two from Hawaii. These imports played a very important part in the development of the breed here in Australia.
The Brittany is classified as a Utility Gundog which means that they hunt, point, flush and retrieve their game. The Brittany is used in Australia for hunting Stubble Quail, Duck, Rabbit, Hare and to a lesser degree Foxes, pigs and Deer. The Brittany as yet has not been split into show and field lines, unlike many other breeds.
The Brittany is a medium sized dog growing to approximately 51cm at the shoulder and weighing between 13-19 kg. They fit nicely into the family car and don't take up much room. They are a leggy dog in appearance with great stamina, energy and intelligence. This gives the Brittany the ability to be easily trained in any activity your family enjoys undertaking. Coupled with the desire for hunting and refusal to quit this makes the breed very versatile for show ,Obedience, Agility, field work and or an active fun loving family companion.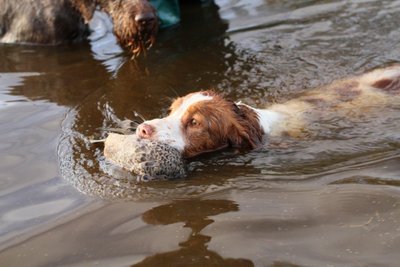 TEMPERAMENT
Brittany's are a happy alert dog neither shy or mean. They are energetic fun loving and enjoy the company of people of any age. Brittany's are loyal, affectionate and eager to please their master as well as being good watch dogs. They make fantastic pets for children especially 4 to 5 years and up, though smaller children may get their faces washed several times a day and get pushed over by an over exuberant puppy wanting to play. If supervised the puppy soon learns not to knock his small master over and baby and puppy grow up together and become the best of friends.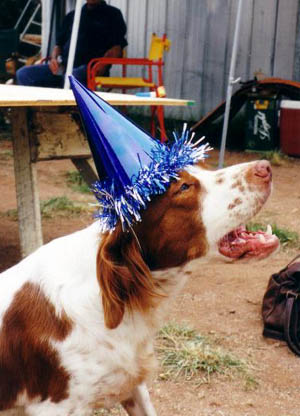 Brittany's have also proven them selves as being very important companions for the elderly. I have first hand knowledge of this scenario as I placed my American Import Aust Ch PJ'S All Kiddin Aside (Coke) with My Elderly parents. Coke was 5 years old when he went to live with mum and dad it was a match made in heaven. Dad had bred Working border Collies ever since he was a young boy in Scotland as did his father and his father before him. My father had an uncanny ability to gain any dogs trust and love. Coke was besotted, my dad could not move with out his little orange and white shadow where ever dad was so was Coke.
But in 2002 the unthinkable happened ,my dad pasted away suddenly.
Coke was beside himself he walked the house for days looking for him when any one came to the door he would run expectantly to the door just to be sorely disappointed every time. He sat outside the closed toilet door for days thinking he must be in there. We had to leave the door open so he would move away. It broke our hearts to see him like this.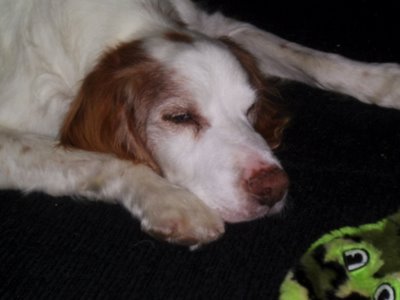 But with time Coke turned all that immense affection and love toward my 84 year old mum. Mum had her constant Orange and white shadow, Who will not let her out of his sight just in case she doesn't come back!!!!!!! Coke  certainly helped my mother through a very difficult and lonely time. We are convinced it is because of Coke that mum was able to live on her own and more importantly in her own home. Until her very sad and untimely passing on the 15th of March 2011. Coke is now very much in his twilight years just having turned 17 years old. He is now living the doggy high life with my sister ,Hazel and her two dogs Brea (Blue Merle Shetland Sheepdog i bred actually a Seamus Daughter who is 14 years old) and Kelsey Brittany 8 years old.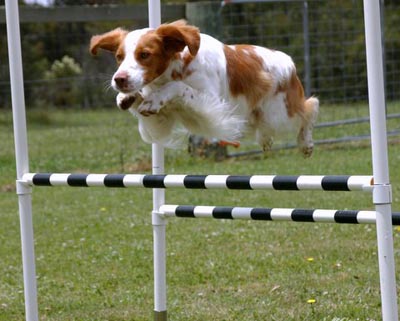 The Brittany is a tough, rugged little dog with a great deal of courage and spirit. They are very active, fast and skillful when hunting and are excellent retrievers on both land and water. The Brittany is an easy dog to train and excels at obedience and agility. They can become bored with repetitious training so it is essential to put variety into their routines. The Brittany does not respond well to hard or rough handling gentle positive training is defiantly the way to go with these little guys.
We highly recommend puppy pre school for your puppies most vets conduct these. Ring your vet and ask when their next class starts.
Also Obedience training is essential for any dog and owner!
Please again ask your vet or your council will be able to point you in the right direction.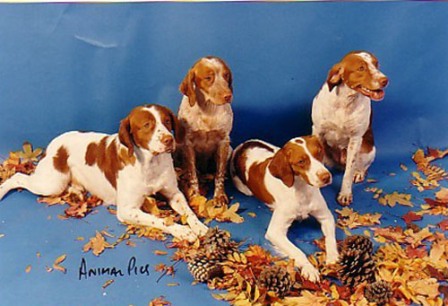 Brittany's are fondly referred to as the Wash 'n' Wear dog. The coat is of a short to medium length with some fringing on the back of their legs. The coat is designed not to absorb or hold water, mud or dirt. Hence your Brittany should only require a bath once every two weeks or so, after bathing a quick rub with a towel and a shake and they are almost dry. A quick brush and you are done.
Brittany's are small and inexpensive to feed although they are very good eaters. If you keep filling their bowl they will keep eating it, so care must be taken to follow any feeding instructions from the breeder ( all breeders should provide you with a detailed feeding/care regime for your new puppy/dog) and monitor the Brittany's condition or you could end up with one that looks like a wombat!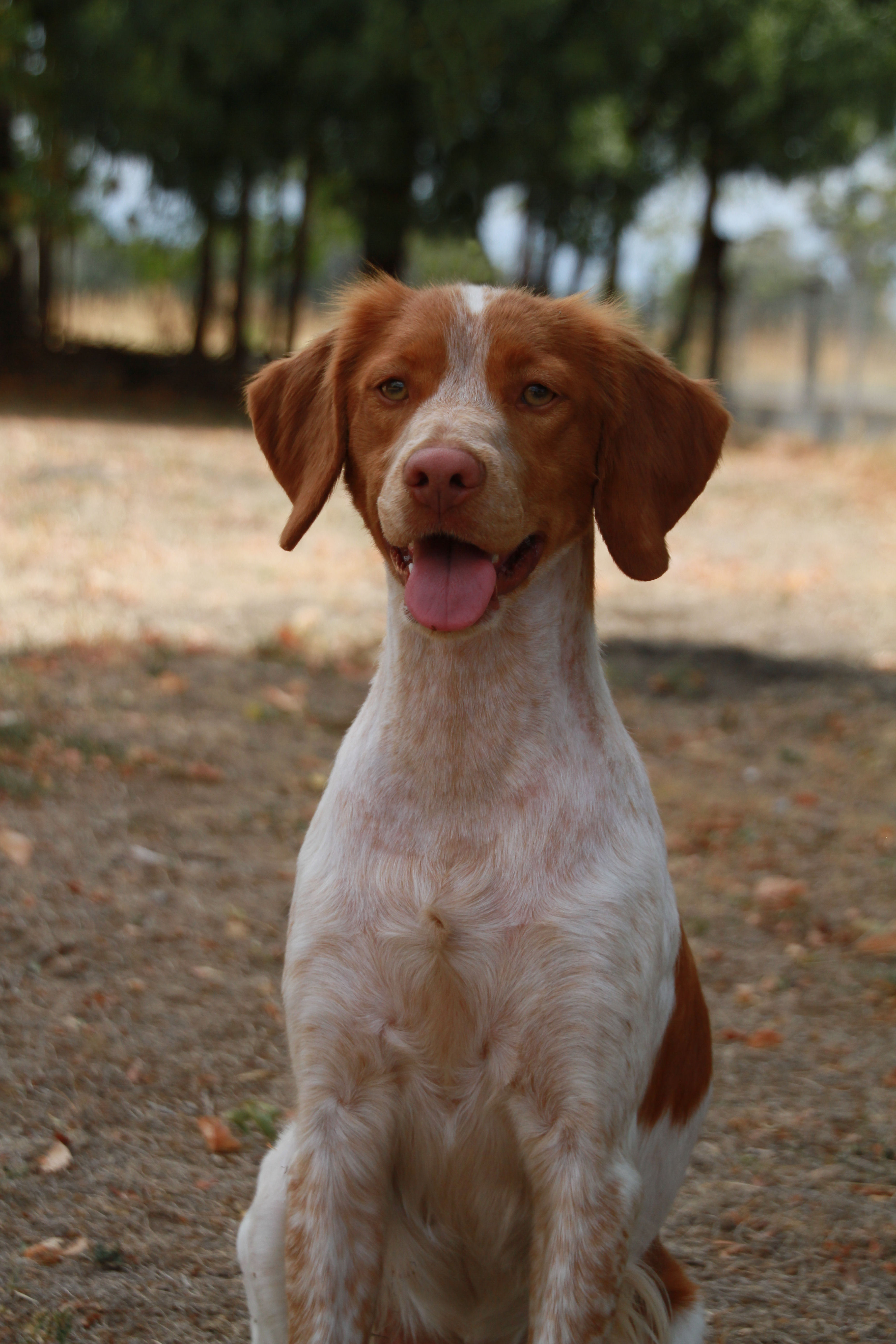 Ensure you have a plentiful supply of chicken necks, chicken frames, lamb necks and lamb shanks and if you can get them beef brisket bones.
You can store these in your freezer and defrost as required.
Dogs enjoy a variety of foods just like we do. You don't eat the same thing day in day out. Well your dog shouldn't either!
If you are going to feed puppy/dog  lamb necks, lamb shanks, chicken frames then one (maybe two depending on the size) of these will be sufficient
PLEASE DO NOT COOK  AT ALL ALWAYS FEED THESE MEATY BONES RAW.
Bones are very important for dogs so please continue to feed these to your dog all of its life.
Please ensure he/she has shelter from the weather.
Plenty of COOL SHADE during the warmer months and DRY, WARM, DRAFT FREE Shelter during the cooler/cold months.
Exercise is a very important part of any dogs life, obviously you don't take baby puppies on huge walks you must wait until they are a little larger around 5-6 months even then be very careful with the amount of forced exercise you do with them. Forced exercise can be very detrimental to their joints.
Once your pup is fully-grown around 12 months of age you can then start to increase their exercise. Adult Brittany's do require at least one good walk a day, two is better if possible.
We also recommend that you construct some sort of enclosure for your dog .So that when you are not home he/she can be locked away safely you can leave them with one of those good juicy bones I told you about earlier. Plenty of fresh water and a house with a warm cuddly bed in it and bob's your uncle. So to speak! Your Brittany will be as happy as Larry until you return and let them out to join in the family activities.
Always spend as much time as possible with your puppy/dog and make him/her your mate you will then have a very happy, loyal friend for life!