Tobenlee The Entertainer CDX, ADM, JDM, SPDX
"Elton"
Sire: Aust Ch PJ'S All Kiddin Aside ( IMP USA)
Dam: Aust Ch Likren Goodnite Suzzanna (IID)

"Hey watch out Percy" Elton is catching on pretty quickly now!!
Tobenlee would like to
Congratulation
Whitton ,yet again, on some more wonderful achievements (Titles) with "Elton"
Elton is proving that Percy is not the only Brittany on the "Whitton" block that has brains and the Calm, Willing , Loving and Loyal Brittany Temperament needed to perform so Beautifully in the Agility, Jumpers A Obedience Rings.
CONGRATULATIONS
Deb and Elton.

THANK YOU DEB FROM THE BOTTOM OF OUR HEARTS FOR OBVIOUSLY LOVING AND TAKING SUCH BEAUTIFUL CARE OF THESE TWO VERY HANDSOME AND TALENTED BOY'S.
---
Tobenlee I like it Hot  CDX, ADX,GDX,ADO,JDM2, SPD,SD

"Cooper"
Owned and very much loved by MS.Sara Baker of the Northern Territory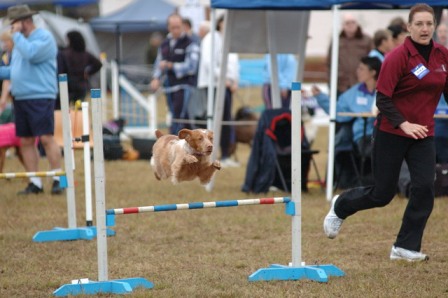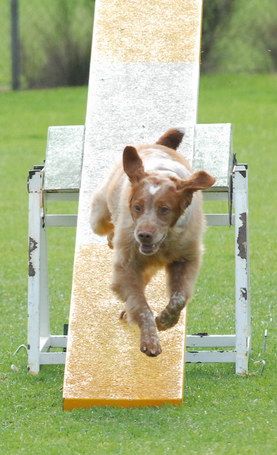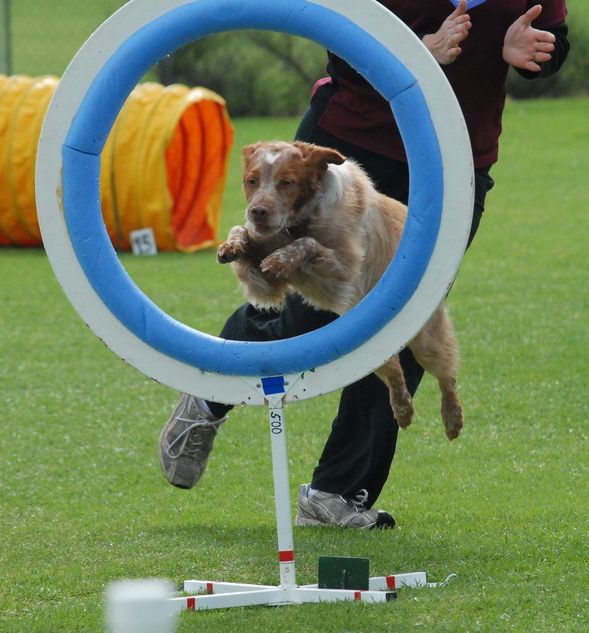 Sire: Aust Ch Tobenlee Nite Jester
Dam: Aust Ch Black Buttes Heart Of Gold (IMP USA)

"Cooper" is an awesome dog and one that is doing his owner and his breeders proud.
Gaining the love and admiration of many people both in and outside the Agility /Obedience World.
"Cooper" has been a fabulous ambassador for our breeding program.
Several people have ordered and purchased puppies purely because they saw that gorgeous orange roan fire ball doing his thing in the agility ring..
Keep up the great work Sara and Cooper we are oh so proud of you both!!!.
 Tobenlee One Nite Stand CDX, ADM, JDM, SPDX
"Percy"

Sire – Aust Ch Tobenlee Nite Jester

Hip score 0/0 , Elbows 0/0,  Normal Heart & Clear Eye Certificate.

Dam – Aust Ch Riverreed PJs Hot Cocoa

Hip score 6/2  Elbows 0/1. Normal Heart & Clear Eye Certificate.

Percy is very much loved and trained by Debra Whitton in New South Wales.
Percy and Deb are proving that with Correct Training , A strong trusting bond and the UNDYING will to PLEASE their beloved mistress/master Brittany's make extremely competitive, exciting AND skilful Agility, JUMPING AND OBEDIENCE Partners .
We are so very VERY PROUD OF DEB AND Percy.
They are Promoting this lovely breed of gundog perfectly. They are wonderful ambassadors and promoter of THE BRITTANY BREED.
HUGE CONGRATULATIONS from us ALL AT TOBENLEE.
All the very best for your future adventures!!
Percy starred in the very prestigious glossy magazine called Highlife with a full colour page of Percy and a fantastic write up about the Brittany breed.
Congratulations Percy and Debra for a wonderful Presentation on the Brittany Breed.

---