Imported Dogs
Multiple BISS/BIS/Aust Supreme Ch/Am Ch Dogwood Hollow C I Can Dance (Imp USA) 
            "Rudy" is a fun loving cheeky boy with loads of spunk , presence and that look at me attitude.
Tony and I are so very excited about "Rudy's" future ,both in the show ring and as a sire here in Australia.
"Rudy" exhibits that highly sort after ( rarely found) correct reach and drive that creates his huge open side gait.
"Rudy's" correctly angled front with his beautiful smooth flow into neck and shoulder,solid top line, strong well muscled rear, well let down short little hocks, beautiful spring of rib, strong board short loin exquisite temperament and pretty pretty head .  We cannot thank our good friends Gary, Geri Clements and Cheryl Mika of Dogwood Hollow Brittany's in Tennessee USA for giving us the opportunity to this truly amazing Brittany
2  Specialty Best In Show
Multi BISS/Multi RUBIS/American & Australian Supreme Champion Dogwood Hollow Out Of The Park (IMP USA)
Sire: Am Ch Hopes Autumn Sno Storm (USA) OFA GOOD
Hips OFA Good, Elbows Normal

Carries a Current Normal Heart & Clear Eye Certificate at 10 years old

 Converting 2 of these into BEST IN SHOW WINS
3 Runner -Up Best In Championship Show (All breeds)
 15 Best Exhibit In Group (Group 1) (All breeds)
15 Runner – Up to Best Exhibit In Group (Group2) (All breeds)
23 Best Open in Group and 4 Open In Show Awards (All breeds)

Melbourne Royal
 2007 Best of Breed Judge Mr Edgar Bajona
Victorian Gundog Club
2007 Best of breed Judge Mrs A McCarry Carrol (IRELAND)
2009  Best of Breed Judge Mr S Hollings (UK)
 2010 Best of Breed  Judge Mr Larry Berg (USA)
Club L'Epagneul Breton Championship Show
2009 BEST IN SHOW Judge Mrs C Cartledge (UK)
2010 BEST IN SHOW  Judge Ms N Neskrosier (Lithuania) With 31 Brittany's entered.
Victorian Women's Championship Show
Best Of Breed 1st November 2010 Judge Mr D Markus (Canada).

"CHIPPER" is a very valuable asset to our breeding program, he will have a very positive impact on the breed. He will definitely assist in the continuing forward development of the Brittany breed here in Australia.
Aust Ch Dogwood Hollow American Beauty (Imp USA)
"Revlon"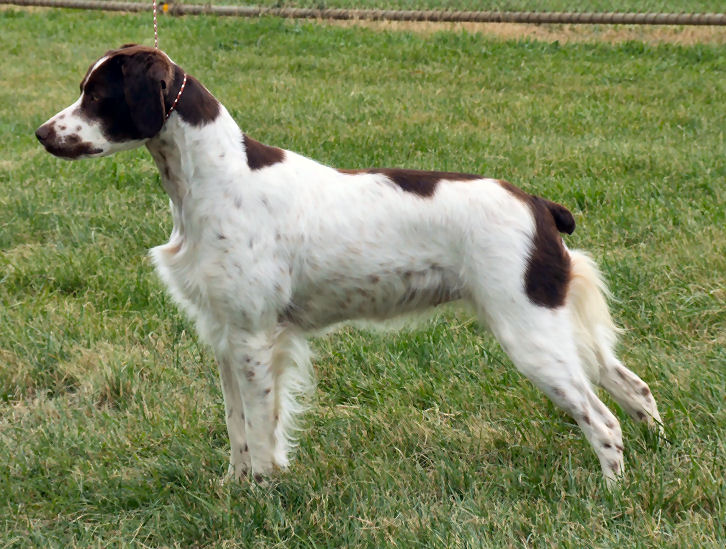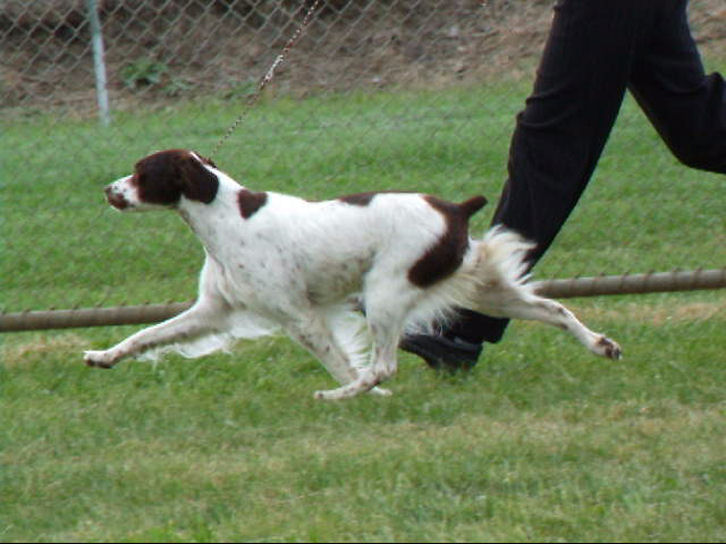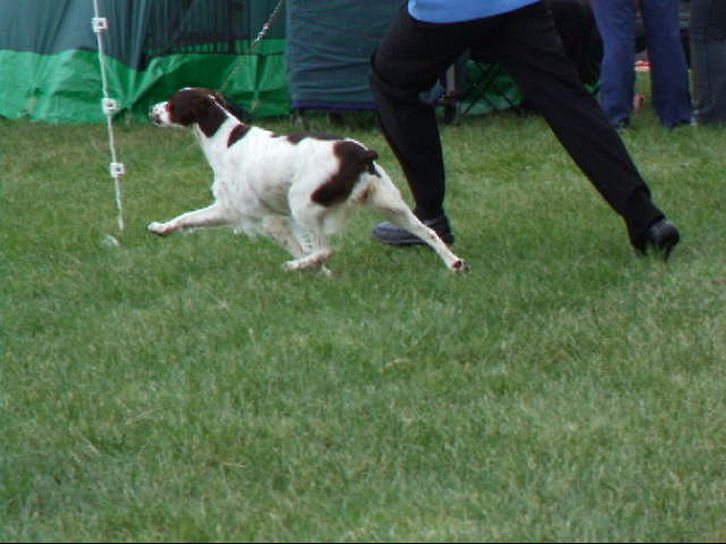 Sire : Am /Can Ch Jordean All Kiddin Aside JH OFA Good
Dam : Am Ch Dogwood Hollow Shoshoni Star OFA Excellent
Hip Scores 4/3 Total 7 Elbows 1/0  Carried Clear Eye & Normal Heart Certificate.
Revlon is sired by America's all time top winning Brittany, ,AM/CAN CH Jordean All Kiddin' Aside, "Ollie" who amassed 52 All Breeds Best In Shows 129 Group firsts 291 Best of Breeds 5 American Brittany Club National Best of Breeds.
 Ollie's Fifth Best In Specialty show was in 1998 at the amazing age of 9 years Old.
OLLIE'S RECORD STILL REMAINS  UNBROKEN IN THE USA.
SHE IS BREATH TAKING TO WATCH!!! SOOO THRILLING TO FOLLOW!!!!!!
Revlon is a MOST BEAUTIFUL BRITTANY! She conforms to The Breed Standard Beautifully!
Revlon possess the highly sort after wide open ground covering side gait that all Brittany's should exhibit, Her movement coming and going is FLAWLESS!!
 Revlon's posses the most adorable mischievous SPUNKY personality ,she lives and loves life to the max. Before leaving America Rev attended the 2004 American Brittany National Specialty show and was awarded 4th place out of a class of 20 ,6-9 month old Puppy bitches by judge Mr Jon Cole. Revlon had only just turned six months old a few days prior to the Nationals.
Revlon is a Multiple Junior in Group winner and Intermediate in group winner. Revlon is being consistently Short listed for the group under International as well as Australian Judges.
"Miss Revlon" is now enjoying her well deserved retirement living the doggy Hi life  with Richard &Leonie Spall.

Aust Ch Rocklan Jordean Night Hawk (Imp USA)
" Hawk "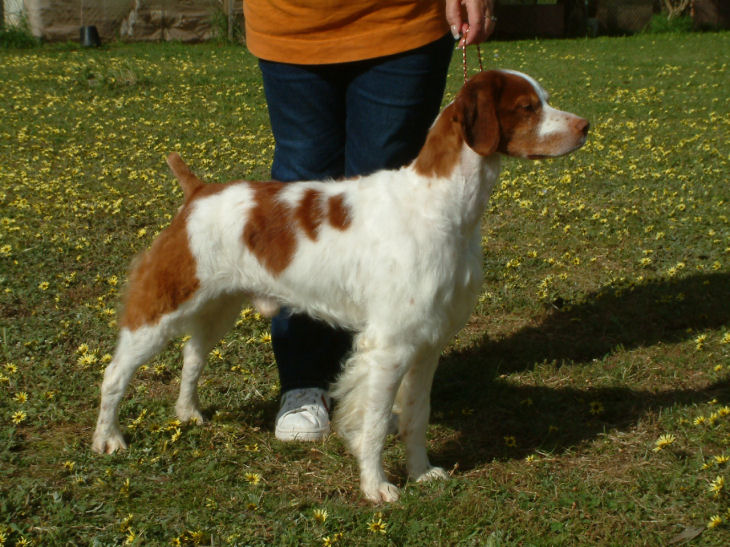 Sire Multi BISS/Multi BIS/Am Ch/Can Ch Jordean Up All Night OFA Good Patella/ Elbows Eyes Clear.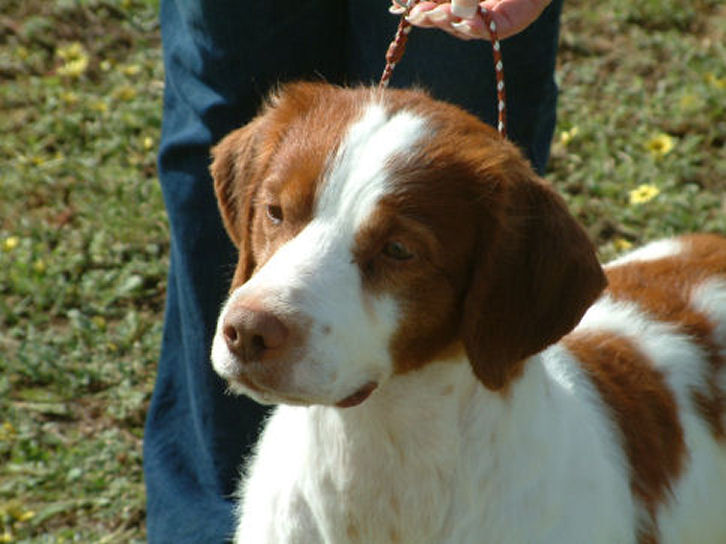 Hip score 4:4  Elbows 1:1 Patella Clear
Carried Clear Eye & Normal  Heart Certificate
                 Hawk arrived at Tobenlee on the 16th October 2000 and fitted in straight away, loving everybody and enjoying his new life romping and playing in our wide open spaces here at Tobenlee. "Hawk" is line bred to the all time most willingness Brittany ,AM/CAN CH Jordean All Kiddin' Aside, "Ollie" who amassed 52 All Breeds Best In Shows 129 Group firsts 291 Best of Breeds 5 American Brittany Club National Best of Breeds.
 We at Tobenlee can now line Breed to this amazing once in a life time dog, The Epitome of The Brittany Breed, AM/CAN CH Jordean All Kiddin' Aside, "Ollie". Thanks to Margi and John Sauer and Andrea Lane  (Jordan) for selling us MY MATE and "OLLIE'S" double grandson, "Hawk".
 Hawk is a multiple in group and Best of breed winner at championship show level he is producing gorgeous puppies who are excelling in the show ring and out in the field. Hawk to date has sired six Australian show Champions.
 Hawk is the sire of  
AUSTRALIA'S FIRST  MULTIPLE BEST IN SHOW AND RUNNER TO BEST IN SHOW and 11 TIME BEST IN GROUP WINNING BRITTANY, AUST CH TENDAYI DARE YA TA WHISPA (SPINNER).
Spinner is out of Aust Ch TOBENLEE TH BEAR FACTS (RILEY) Spinner is owned by ANDREW AND VANESSA BOURNE in The Northern Territory. Spinner was bred by Annette Rogers of Tendayi Kennels Queensland.
Hawk is also sire of  
Multiple Best In Group, Best in Show and Best in Specialty Show  AUST CH TENDAYI MARK MY WORDS (LOGAN)
AND  Multiple Royal Best Of Breed and Runner-up in Group Toowoomba Royal Winner AUST CH TENDAYI TO DIE FOR (HUNTER).
 These two gorgeous boys were/are bred/owned by Annette, David and Caitlin Rogers in Queensland these boys are out of Annette and David's American Imported Bitch Aust Ch Breezewaters Come Fly with Me.
 Hawk is the consume Gundog he is the easiest of dog's to handle and shoot over in the field. Hawk possess a fantastic nose ,stylish point and is a Natural backer ,his retrieving ability is excellent.
 I can always count on Hawk to Find and retrieve to hand all of the game we have shot that weekend.
   Some of Hawks Special Wins

Runner Up Best In Group (G2) Winner at 14 Months.
Best Of Breed – Brisbane Royal 2001
Dog Challenge Runner Up Best of Breed – Brisbane Royal 2002
Best of Breed Toowoomba Royal 2002
Dog Challenge 2002
Dog Challenge  Runner Up Best of Breed – Sunbury Kennel Club 2002 
  Coke has sired 16 Australian Show Champions and one Grand Champion.

 When it comes to hunting Cinders has more than her fair share of desire and intensity, combined with a wonderful and easy to train temperament makes her a very valuable addition to our kennel and breeding program.
Cinders Just loved the show ring and was always ready to "strut her stuff". She gained her Australian show title quickly and easily.
 Cinders was awarded Bitch Challenge at Sunbury dog show under a judge from Brazil defeating older CLEAR ORANGE AND WHITE BITCHES.
Cinders is now retired from breeding and the show ring she lives with good friends in Bacchus Marsh on their farm.
Cinders is the very proud mum of "Flirt" Aust Ch Tobenlee Flirt With Me.'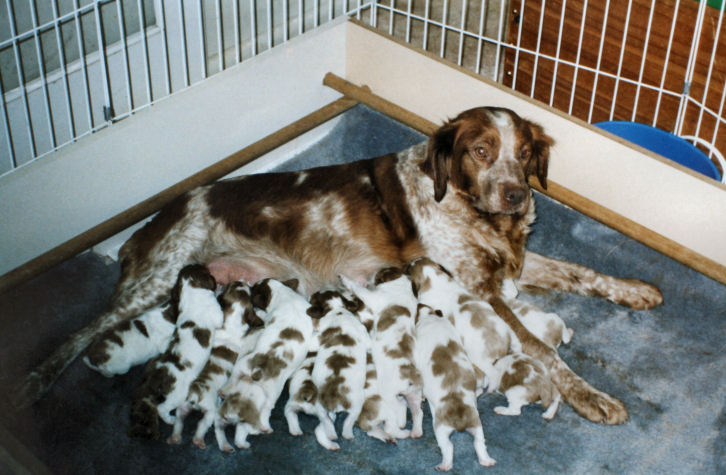 "Cinders also holds the breed record for the number of live puppies whelped 15 AND ALL SURVIVED all grew up to be lovely healthy happy Beautiful Brittany's.